2012 Toyota RAV4 Introduction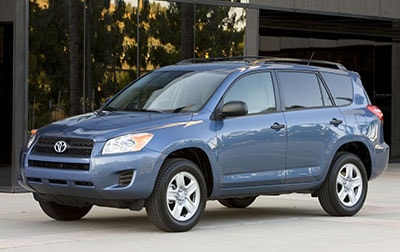 An all-electric model joins the 2012 Toyota RAV4 lineup.
Otherwise, the RAV4 lineup carries over unchanged for the 2012 model year. This third-generation compact SUV has been around since the 2006 model year. A fourth-generation RAV is slated to debut as a 2013 model.
The 2012 Toyota RAV4 EV is an all-electric version borne of a partnership between the Japanese automaker and Silicon Valley startup Tesla, which developed the electric powertrain to shoehorn into the existing RAV4 architecture. This variant sports a 115 kW electric motor connected to a lithium ion battery pack. RAV4 EV is distinguished by special interior and exterior trim. RAV4 EV seats five: A third row is not available.
Power output is equivalent to a mere 154 horsepower, but Toyota claims the RAV4 EV is the fastest and most powerful electric vehicle on the market. Peak torque is more impressive, at 218 pound-feet in Normal mode, and 273 pound-feet in Sport mode.
As with any electric vehicle, the range of the RAV4 EV varies on driving patterns and use of the climate control system. Toyota estimates the RAV4 EV is good for about 100 miles of real world driving. Three climate control modes put varying levels of demand on the battery. In Normal mode, the climate control system works the same as in any other car, but it uses the most juice. The Eco Hi setting is the most efficient, and Eco Lo is in-between. The display on the instrument cluster will recalculate range as the driver toggles through the various climate control settings.
Charge time for the RAV4 EV varies from decent to excruciating, depending on the system. The recommended 40-amp, 240-volt fast charger will juice the RAV4 EV up in about five hours, while a normal 120-volt household outlet can take as long as 52 hours.
Only 2,600 units of the RAV4 EV will be produced over the next three years, all of which will be on sale solely in California. It's not cheap, either; the RAV4 EV retails for $49,800. Toyota says the cost to the buyer will be closer to $40,000 after federal and California tax credits. Add $1,595 for the 240-volt fast-charging system with standard insulation (meaning, if your wiring is up-to-date).
All variants of the 2012 RAV4 boast a roomy and comfortable interior, although some materials aren't up to par with competitors. Still, the RAV4 excels at convenience and ease of use. Getting in and out of the driver's seat is easy. It can move lots of people or lots of gear, and it comes standard with a long list of safety equipment. We prefer the five-passenger configuration; for seven, we'd prefer a bigger vehicle.
The standard RAV4 is powered by a 2.5-liter four-cylinder that makes 179 horsepower and 172 pound-feet of torque. We found it smooth and stable underway. The power feels wimpy, however, especially paired to the dated standard 4-speed automatic. Fuel economy is mediocre at 22/28 mpg City/Highway on front-wheel-drive models, and 21/27 mpg with all-wheel drive.
The 3.5-liter V6 packs more oomph with 269 horsepower and 246 pound-feet of torque, along with a 5-speed automatic transmission. EPA-estimated fuel economy is a respectable 19/27 mpg with front-wheel drive and 19/26 with AWD.
The 2012 RAV4 carries on as a versatile yet dated utility that seats up to seven with plentiful cargo space. The 2012 RAV4 competes with the Honda CR-V, which has been recently refreshed, along with the Kia Sorento, Dodge Journey, and Chevrolet Equinox.
** Price(s) include(s) all costs to be paid by a consumer including $399 documentation fee, except for licensing costs, registration fees, and taxes.